There have been two Onward Brass Bands of significance in New Orleans. The original ensemble was one of the pioneering jazz-oriented brass bands, actually predating jazz itself by a decade. Consisting of three cornets or trumpets, two trombones, two clarinets, alto horn, baritone horn, tuba, snare drum and bass drum, the Onward Brass Band was very influential and popular during its heyday. Emanuel "Manuel" Perez led the group from 1903 until its disbandment in 1930 (Perez had changed the name to the Imperial Brass band by then). There were many historic names in the band including Lorenzo Tio, Jr., Peter Bocage, George Baquet, Isidore Barbarin and King Oliver. The first Onward Brass Band (which unfortunately never recorded) broke up shortly after the beginning of the Great Depression.
In 1960, famed drummers Paul and Louis Barbarin (sons of the first Onward's alto horn player Isidore Barbarin) and clarinetist Louis Cottrell (son of pioneering jazz drummer Louis Cottrell, Sr and godson of Manuel Perez) formed a new Onward, modeling it after the original popular group. Paul Barbarin led the new Onward until his untimely death in 1969, with Louis Cottrell assuming leadership until his passing in 1978.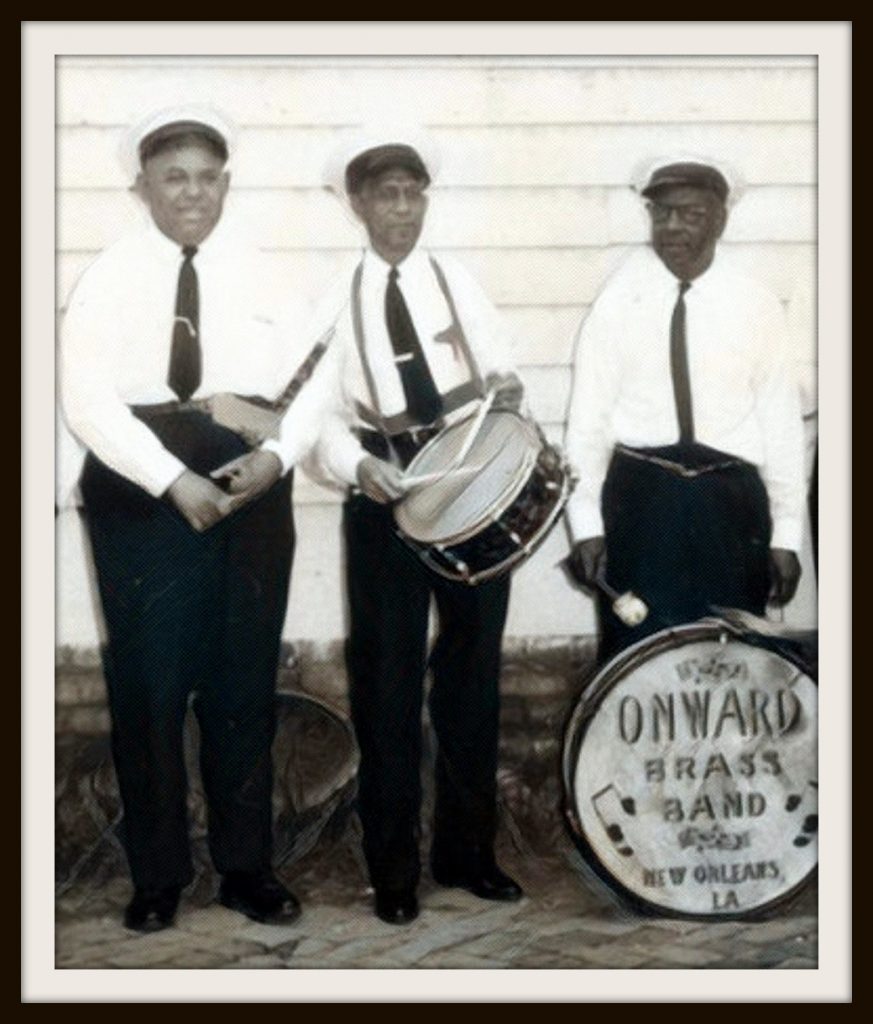 Under Barbarin's guidance, the second generation Onward became a staple of the New Orleans jazz/ brass band community. The Onward began marching annually with Pete Fountain and his Half Fast Walking Club (originally known as Half-Assed) on Mardi Gras day, a collaboration that would last for 18 years.
In 1964, Barbarin led the Onward to New York for performances at the Louisiana pavilion of the 1964 World's Fair. It was during that visit that Barbarin encouraged his nephew, legendary banjoist/guitarist Danny Barker to permanently return to New Orleans; a decision that would have everlasting affects on the future of New Orleans Jazz. Barker would join the Onward and remain a lively contributing member for the next 13 years as both Grand Marshal and banjoist, with his trademark foot-long stogie and colorful jacket and sash.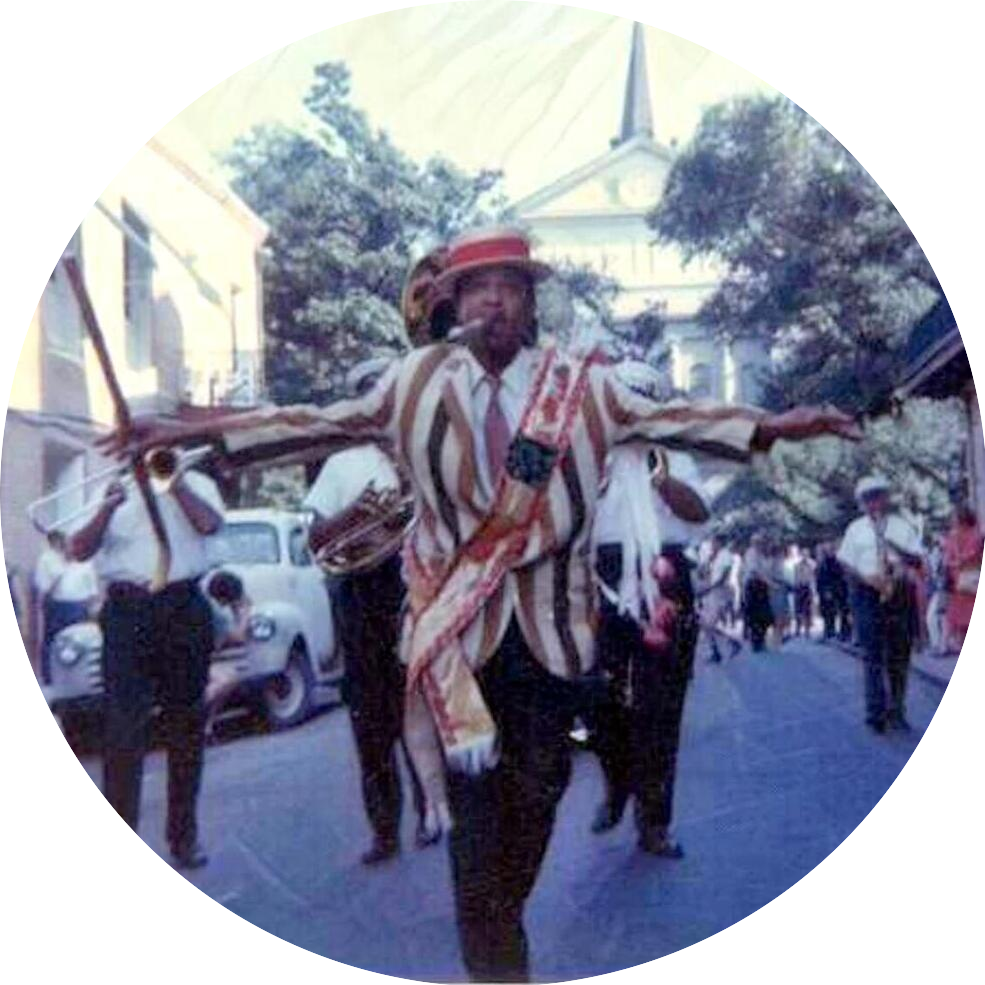 The Onward recorded a couple of albums during the 1960s, the most notable being Paul Barbarin's Onward Brass Band In Concert 1968 at the Connecticut Traditional Jazz Club. The personnel included Paul Barbarin on bass drum, Alvin Alcorn, and Ernest Cagnolatti on trumpets, Louis Cottrell on clarinet, Wendell Eugene and Clement Tervalon on trombones, Danny Barker on banjo, Freddie Kohlman on snare drum and Jerry Greene on the tuba.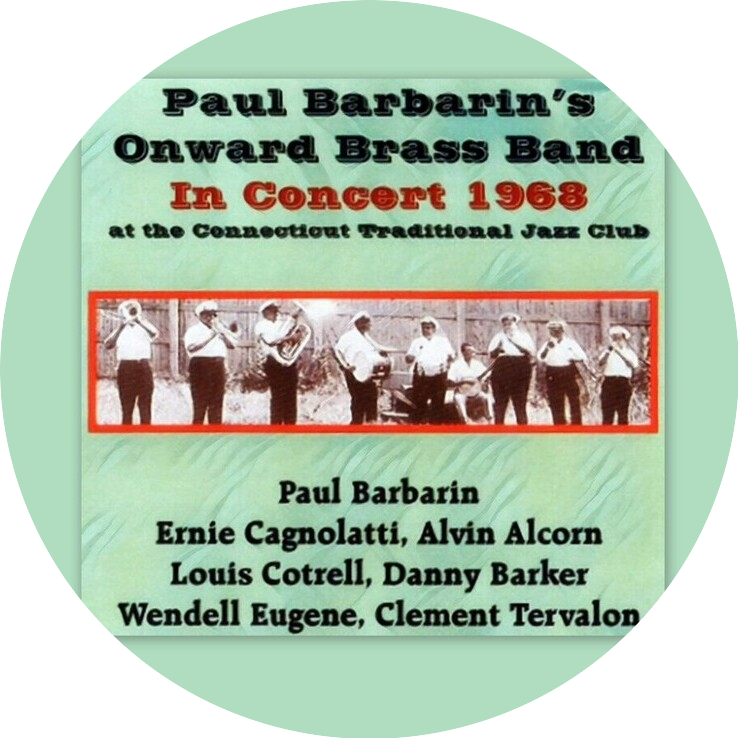 In July of 1968, the Onward travelled to Newport, Rhode Island, to perform at the Newport Folk Festival which included performances by renowned artists Joan Baez, B.B. King, Janis Joplin and many more. The Onward "were quite exciting" according to a Rolling Stone review which described the ensemble as "a semi-Dixieland band with Creole overtones, and are genuine in every sense of the word."
Alvin Alcorn, Louis Cottrell, Janis Joplin, Danny Barker and Paul Barbarin
The Onward was also featured in a 1968 film, New Orleans Jazz Parade. The film shows the Onward Brass Band parading through the French Quarter of New Orleans while picking up second liners along the way. The parade and film were organized by Smithsonian Productions for an exhibition on jazz at the Anacostia Community Museum that ran from December 1, 1968, to January 15, 1969.
In 1969, the Krewe of Proteus, the second oldest Mardi Gras Krewe, invited the Onward Brass Band to march in their prestigious parade on February 17th, the first time an all black band was invited to participate in their event. The Onward, as described by Danny Barker, was "a two-beat, swinging jazz brass band" which differed greatly from other parade bands who marched to a military styled cadence. The band would subsequently lag in keeping up with the more up-tempo parade bands which led to the Parade Marshal advising Barbarin to either speed up or fall out of the parade. A tensed Barbarin (who was determined to have the Onward shine after being given the opportunity) opted to have the percussion section play military cadences in order to catch up, but in doing so, had to drop out of the parade himself after feeling ill. Upon the conclusion of the parade, remaining members of the Onward were informed by a New Orleans policeman that Barbarin had died. Barker recalled all standing still for awhile before someone saying "it meant so much for him to march in that parade." Despite heavy hearts, the Onward would rise just hours later as they headed Pete Fountain's Half Fast Marching Club on Mardi Gras day as Chester Jones replaced Barbarin on the bass drum. Paul Barbarin was laid to rest on February 22, 1969 in one of the largest jazz funerals New Orleans had ever seen.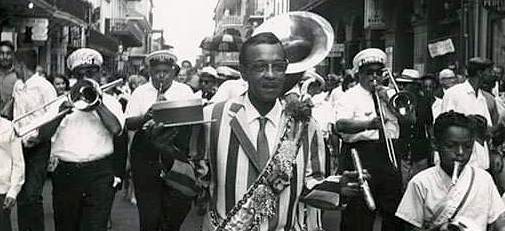 ---
Louis Cottrell, Jr., who was President of American Federation of Musicians Local 496, assumed leadership of the Onward upon the death of his lifelong friend. Under Cottrell's direction, the band gained national recognition with several prominent performances. The Onward was one of several acts selected to headline the halftime entertainment show for Super Bowl IV, the first ever hosted by the city of New Orleans. Entertainers for the game played on January 11, 1970, included New Orleans natives Al Hirt and Marguerite Piazza, in addition to Tonight Show bandleader Doc Severinsen, Lionel Hampton and the Southern University Marching Band. The halftime show included costumed actors recreating the Battle of New Orleans, a Mardi Gras parade and traditional New Orleans jazz funeral featuring the Onward and Olympia Brass Bands.
Two months later, the Onward made the first of two appearances at the incomparable Carnegie Hall with New Orleans trumpet virtuoso Al Hirt. They would also perform at the inaugural New Orleans Jazz & Heritage Festival in Congo Square, becoming a staple at the festival for years to come.
In July of 1971, just days after the death of the great Louis Armstrong, the Onward, along with the Olympia Brass Brand paraded thousands throughout the streets of New Orleans while descending upon City Hall for a final tribute to Armstrong. National news outlets covered the event as Onward trumpeter Theodore "Teddy" Riley played taps from a City Hall balcony on a cornet once belonging to Armstrong. It would be the last time Armstrong's first cornet would be played before making its way to the New Orleans Jazz Museum where it is enshrined.
The NFL returned to New Orleans in 1972 as Super Bowl VI (Cowboys v Dolphins) was played in Tulane Stadium on January 16, 1972. The show consisted of a "Salute to Louis Armstrong," and featured a then 13-year-old Leroy Jones as "Little Louis Armstrong." The Onward Brass Band, Danny Barker, Carol Channing, Ella Fitzgerald and Al Hirt were also featured artists. CBS-TV showed Louis Cottrell and the Onward marching and playing High Society with Danny Barker leading as grand marshal. The Onward also accompanied Carol Channing on her rendition of "Hello Dolly."
In 1973, American singer-songwriter icon Paul Simon recorded his third studio album, There Goes Rhymin' Simon 1973 and called upon Cottrell to have the Onward Brass Band record "Take Me to the Mardi Gras" for Columbia Records. It was the fourth single released from his album and only charted in the United Kingdom. It debuted on the UK Singles Chart on June 10, 1973 at a position of 36, rising over several weeks to a peak of number seven on July 8th. In total, Take Me to the Mardi Gras spent eleven weeks on the chart. The recording took place in the now famous Muscle Shoals studio in Sheffield, Alabama. Simon recounted how the Onward impressed him by showing up for a studio session dressed in suits and signature band caps, the consummate group of professionals.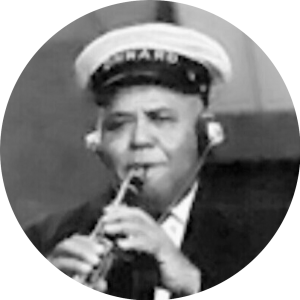 Louis Cottrell returned to Carnegie Hall with the Onward Brass Band on February 12, 1974, along with his Heritage Hall Jazz Band as featured artists in Ronnie Kole's production of New Orleans Mardi Gras '74 at Carnegie Hall. The Onward paraded out the front door of Carnegie Hall, marched down Seventh Avenue for one short block, then turned the corner and re-entered the hall from the stage door side. While the total elapsed time was said to have only lasted for a few minutes, the mini parade resulted in a four column picture in the New York Times, coverage by every television station in the metropolitan New York area, and a colossal traffic jam as scores of cars were abandoned on Seventh Avenue to experience the festivities.
The Onward continued entertaining tourists and conventioneers throughout the 1970s and made their home at Heritage Hall in New Orleans when not touring. In 1977 members appeared in one of Dr. Pepper's iconic "Be a Pepper" ad campaign commercials starring David Naughton and his ruminating jingle.
Louis Cottrell's Onward also recorded "Paul Barbarin's Second Line" which would later be included on the 10th Anniversary commemorative album of the New Orleans Jazz & Heritage Festival. Onward members on this session included Cottrell on Clarinet, Oscar Rouzan, alto saxophone, trombonists Freddie Lonzo, Wendell Eugene and Waldren "Frog" Joseph, trumpeters Jack Willis, Teddy Riley and Reginald Koeller, Jerome Greene on the tuba and drummers Ralph "Chester" Jones, Placide Adams and Freddie Kohlman.
In 1978, National Geographic released Dixieland Jazz, which featured the Onward depicting "The Early Years" with their replication of a traditional New Orleans jazz funeral. The Onward recorded What A Friend We have in Jesus and Oh, Didn't He Ramble. The personnel for this session included Cottrell on Clarinet, Oscar Rouzan, alto saxophone, Waldren "Frog" Joseph and Wendell Eugene on trombones, Chris "Clifton" Clufetos, Jack Willis and Theodore "Teddy" Riley on trumpets, Jerome Greene on the tuba, and Ralph "Chester" Jones, Milfred Dolliole and Placide Adams on drums.
In March of 1978, Cottrell, who'd privately been battling illness, played several gigs over the St. Patty's Day weekend, including his New Orleans Hilton brunch, a performance for the Zulu Social Aid and Pleasure Club and what would ultimately be his final stage performance at Tradition Hall that Sunday night. His longtime bassist, and cousin-in-law Placide Adams recalled Cottrell playing hymn after hymn, as if foreshadowing an inevitable fate. On Tuesday, March 21, 1978, Louis Cottrell, Jr. died at his Gentilly home. Cottrell's widow, initially hesitant to having a traditional jazz send-off acquiesced with the understanding that the send-off would remain subdued. Before thousands who'd gathered at Gentilly's Epiphany Catholic Church, Cottrell was eulogized by the Rev. Eugene J. McKenna, chaplain of the Onward Brass Band prior to the Onward leading a shortened four block procession and cutting Cottrell loose. Louis Cottrell, Jr. was interred at Mount Olivet Cemetery on March 27, 1978.